Gabrielle Burton (lead vocals)
Gabrielle Burton is a singer/songwriter in the greater Seattle area. She was born in Riverside, California and being a military brat also lived in Germany for a few years before moving to San Antonio, Texas where she grew up. In 2010 she moved with her mother to Seattle, Washington, where she began pursuing her music career. 
Gabrielle started dancing when she was 8 years old and is excited to be getting back into it. As a kid, she danced, cheered, acted, and sang. Being an entertainer is what she was born to do. Her first time performing in front of an audience was when she was 14 and sang the national anthem at The San Antonio Iguanas hockey game. Now she sings every weekend with either Haus Of Sound (her top 40 cover band), Poker Face, or The Cove Dwellers (her work band). Gabrielle also plays Violin and piano.  
Her musical influences were and are: Lady Gaga, The Spice Girls, Alanis Morissette, Korn, Evanescence, Three Days Grace, System of a Down, Jewel, No Doubt, Britney Spears, Mariah Carey, NSYNC, Backstreet Boys, Hanson, The Offspring, Papa Roach, Linkin Park and many more....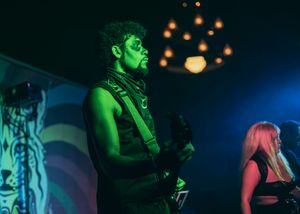 dexter morgenstern (Bass & Vocals)
"Dexter is an artist who dabbles in several of the arts across Washington. He writes as an author, appears in local and commercial film, and plays bass for both Haus Of Sound and Poker Face."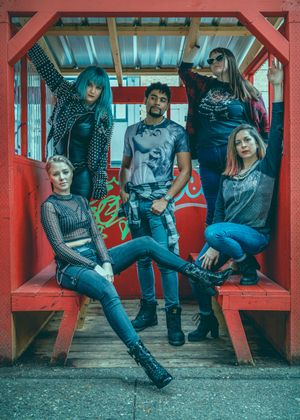 Michelle Brayson (Keys & Vocals)
Michelle Brayson was born in Portland, OR and started playing piano and singing at age 7 and hasn't really stopped ever since.
She spent the first half of her life focused on musical theater and choir. In high school she found rock and roll and her deep passion for music really started then. She started playing in local cover bands through and outside of School of Rock in all kind of genres (everything from funk to heavy metal) as well as forming her own original music projects. During this time she also placed third in Portland Teen Idol singing competition.
Michelle then moved up north to Seattle to get her A.M. degree in Classical Voice. She has continued to play in various bands around town but has spent most of her 10 years up north focused on teaching music and she has started her own music school: Alchemy Music School.
Michelle has performed with artists such as Frank Black (of the Pixies), Kelly LeMieux (of Goldfinger) and Page Hamilton (of Helmet). She's also performed at various events such as Folklife, Bumbershoot, the Nike Olympic Trials and Fall into Darkness Metal Festival. She has a love for pretty much any and all genres of music but has a special place in her heart for anything with dancey fun synthesizers, belty vocals, heavy guitar riffs and blues piano.
Miles Atherly (DRUMS)
Miles is a drummer from Portland, OR. He grew up in a musical household and started playing drums at a young age. Miels started playing in the Pacific Northwest cover band scene while in college and was the founding drummer for Grande Royale (A Tribute to The Beastie Boys. He also played with a number of Funk and Soul acts such as Ruth and The Reason & Alex Saxon and The Satisfactions. Miles is an Aerospace Engineer and outdoor enthusiast when not on the drum kit.